Unlock the key to a successful digital transformation with Bhuma's strategic and delivery expertise 
With a proven track record of solving complex business problems, Bhuma consultants are supporting organisations with strategic technology solutions that transform the way they work and position them ahead of the competition. We offer a specialist consultancy service for fintech (including payments clearing and settlement, card payments and financial crime), however, our team's deep and functional knowledge of technology means we can also provide support across a much wider range of industries.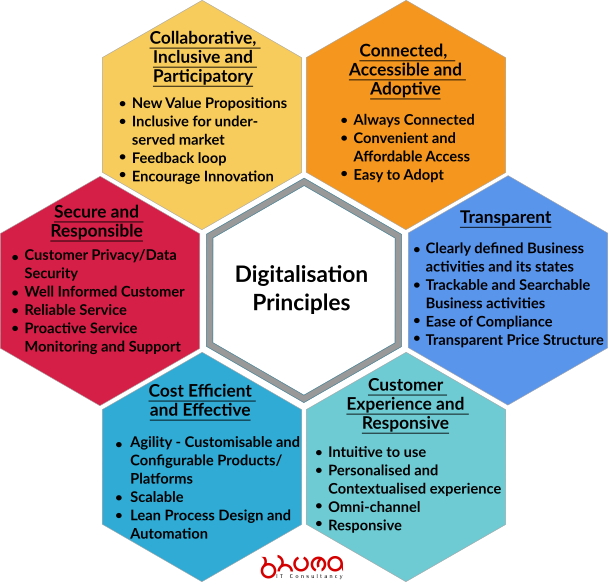 Digital solutions are fast becoming the only way to do business, something which no organisation can afford to let pass them by.
But, with every industry and organisation having very different needs, there's no quick fix for a successful digital transformation. You cannot find a one-size-fits-all solution or off-the shelf template and trying to deliver this kind of transformation via a few disconnected projects isn't going to work either.
To make a digital transformation successful, you have to approach it in holistic way. For many organisations, that means reinventing the business model from front to back!
At Bhuma, we have developed a set of digital transformation principles that help organisations to define a clear strategy, provide a framework for business leaders and IT to collaborate better and drive forward their digital transformation journey.
Business Strategy and Architecture
Having the right business strategy and architecture in place is key for a successful digital transformation. There needs to be clear managerial direction about where the transformation is leading and people within the organisation have to be engaged and feel empowered to contribute to this process.
To support you with this crucial first step, Bhuma consultants can assess your current business and IT capabilities, then work with you and your team to develop a strategy that delivers successful transformation. Our goal with this is to ensure your company stays current, agile, innovative and competitive.
Technology
Digital transformation may not be all about the actual tech (there's a lot of work required around people and processes too) but it's definitely a big part of the story! You can't genuinely effect a digital change without providing the business with the right digital tools and upgrades.
Bhuma helps clients to grow their required digital technology capabilities by choosing, building, implementing, testing and scaling the technology solutions and practices that meet their business requirements. We provide elegant solutions for product management, enterprise/solution/data architecture, process automation and software development.
Operations
In today's hyper-competitive landscape, having an effective operating model is more important than ever. Not only does that model need to address internal systems and technologies but also how those things can drive the external impact of your organisation – from the type of products/ services you provide to the way you interact with partners and customers.
Bhuma's experienced team are designing and implementing operating models for diverse businesses. We can help you ensure your company has the right monitoring and supporting technologies, processes, people and data analytics to realise a customer-centric operating model.